Ecclesiastes 3
1 There is a time for everything, and a season for every activity under heaven: a time to be born and a time to die, a time to plant and a time to uproot,
3 a time to kill and a time to heal, a time to tear down and a time to build,
4 a time to weep and a time to laugh, a time to mourn and a time to dance,
5 a time to scatter stones and a time to gather them, a time to embrace and a time to refrain,
6 a time to search and a time to give up, a time to keep and a time to throw away,
7 a time to tear and a time to mend, a time to be silent and a time to speak,
8 a time to love and a time to hate, a time for war and a time for peace.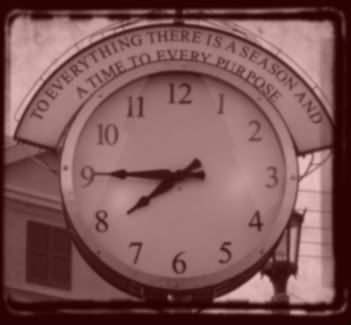 The verse that stuck with me after Bible study. When it was brought up in class I was reminded of the clock that was near our house in Michigan. I remember not wanting to really move from Michigan, especially to California. I had never been to California and we were moving out there with no home while for us. I came across this clock and remembered that there is "a time for everything." We were uprooting and it was time to trust in God to lead the way.
I decide to read all of Chapter 3 when I got home:
14 I've also concluded that whatever God does, that's the way it's going to be, always. No addition, no subtraction. God's done it and that's it. That's so we'll quit asking questions and simply worship in holy fear. 15 Whatever was, is. Whatever will be, is. That's how it always is with God.
Whatever has happened or will happen God has planned it that way. I'm to worship and give thanks in all circumstances, although it's not always easy.